Within 10 years, we've built a superior reputation for providing the best legal translation in the U.S. We have the experience and resources available to complete your legal translation project on time and budget. Our certifications include but not limited to:
Affidavit of Translation
California Notary Public Approval
County Clerk Approval
Apostille Certificate
Turkish Consulate Approval
To receive a free quote for certified legal translation services, simply visit our contact page or call us now: +1(310) 210-4443. We speak Turkish/Türkçe konuşuyoruz.
Frequently Asked Questions about Apostille Stamp and Turkish Consulate Approval
1. What does Turkish Consulate approval mean?
Turkish Consulate approval is a way of legitimizing your official documents FOR OVERSEAS OFFICIAL RECOGNITION. Turkish Consulate approves that the document issued by a State or Federal government agency. For instance, Notary Public's certification is for domestic use only, not for overseas use.  Notary Public is a licensed indiviual and does not represent a State agency; however County Clerk does. Consular can only stamp a document issued by a State or Federal Agency. A notary public in the U.S. is NOT a state agency either in California nor in D.C.
What does the Turkish Consulate say about the Apostille: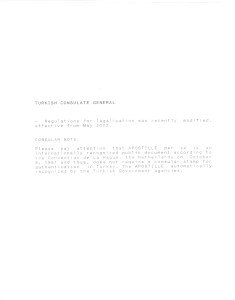 2. I have a document in English to be officially used in Turkey. How can I get it legalized?
You have two ways to get your translated document legalized. You can get an Apostille OR you can get the Turkish Consulate approval.  Turkish Consulate General DOES NOT CERTIFY AN APOSTILLE because apostille itself is an internationally recognized public document and does NOT require a consular stamp for authentication to be used in the Turkish Government agencies." See the attached informational note  note from the Turkish Consulate General below this post.
3. What is the Apostille seal/certification/stamp anyway?
Apostille seal is a way of making a document official. USA and Turkey among others are signatory countries for the Hague Convention signed in 1961 about Apostille certification. Thus all parties in this convention may accept the document for official use without having consular approved. Both USA congress and Turkish congress among others enacted a specific law to recognize Apostille for official use. Here is an example of California Apostille:
4. How do I decide if I need Apostille OR Consulate Approval?
You would need to ask the one whomever  you will submit your documents to in Turkey. If you work with a lawyer, ask your lawyer if you need Consulate Approval or Apostille Stamp.
5. What kind of approval do you recommend?
We recommend Turkish Consulate Approval. However, we are an expert on Apostille stamp approvals as well as Turkish Consulate approvals. You can hire us to get your document legalized EITHER way. We provide BOTH Apostille Stamp Services as well as document legalization at the Turkish Consulate.
6. How can I get the Consulate Approval by myself?
Get your document translated by a translator. You have to hire a translator who can prepare an affidavit for your document. Make sure that translator signs an affidavit and s/he gets it notarized by a California Public Notary registered in Los Angeles. Get the affidavit approved in Los Angeles County Clerk. Take the documents to the Turkish Consulate. Make sure that you bring TWO copies of your document. Walk-in hours to the Turkish Consulate are Monday through Friday from 9 am to 12 pm.
7. Do you legalize commercial invoice? What is the fee for legalization of commercial invoice for sale?
The fee is based on the face value of the invoice. It is calculated as $6 for every $1,000 and minimum consular fee of $18. The fee is calculated same for Commercial Agreement or any other type of Commercial Transaction.